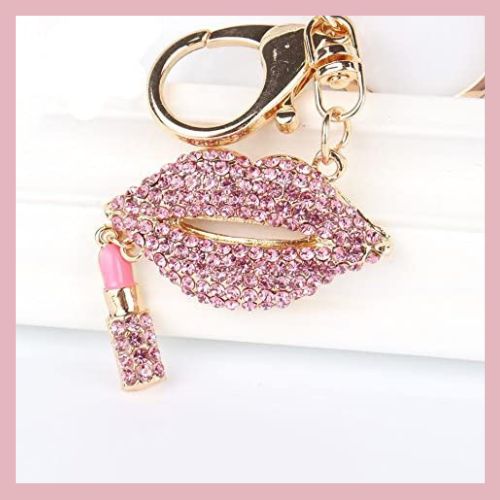 It's always interesting to see how everything aligns as I collaborate with God's plans. About a year ago, I felt led to order a keyring. However the specific design could not be completed and therefore it was placed on hold. A few months later I visited a church and was gifted a keyring. It's certainly not what I had in mind but as always God's plans are always perfect. I got a 'lips' Keyring instead. Haha. It's cute though. But what's even more amazing, is not how dazzling and perky it is, but the verse which was attached to it; "Let the words of my mouth and the meditation of my heart be acceptable in thy sight oh Lord, my strength and my redeemer."
Little did I know that I would actually in the year 2022 have a key to place on the keyring.  What amazed me was how God used this simple verse to speak so boldly to me today. This exact verse was recited at service on June 5th 2022. When I first got the keyring in June 2021, I asked God why this verse? It's interesting how things began to make sense in June 2022.
A very simple verse but yet so powerful. So oftentimes our mouths fail us. Instead of using it to glorify God we do the opposite. What's interesting was the perspective in which more revelation was revealed to me during service.
What did God tell you that right now you are using your mouth; the words of your mouth to discredit the value of His word?
What did God tell you He would do for you but because of how it looks or what people around you are saying you are now using the words of your mouth to be unacceptable to God?
Be careful how you use the words of your mouth because out of it can come both blessings and curses. 
Be careful not to confess the exact opposite of what God has already spoken to you. 
Be careful to not use your mouth to speak death to your life. 
Be careful what you decide to do with your mouth. We have to constantly remind ourselves that death and life lies in the power of our tongue and we will eat the fruit of whatever we confess. 
Be careful what you meditate on because these can hinder the power of God's words from manifesting in your life. Spend ample time meditating on God's Word.
Today as you speak, remember to let the words of your mouth truly be acceptable to God. However, also remember to consider deeply what you meditate on. My best option is to meditate on God's Word. Allow your words to always bring forth life to you and that of others.
---
Let the words of my mouth, and the meditation of my heart, be acceptable in thy sight, O Lord, my strength, and my redeemer.

Psalm 19:14