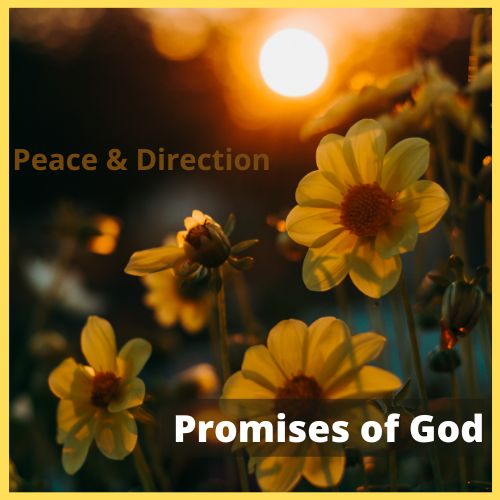 He offers Peace & Direction
Promises of God.
If you are like me there comes a time in your walk with God when you seem a bit puzzled when faced with decisions. You may question; Should I join this group now or should I wait a little later? Should I go ahead and purchase two pairs of… (glasses) or one? Should I go to dinner with this guy or not? Should I purchase this toy for my son or not? Should I begin this project or that other one? Should I continue with ballet class or drop it?
You may be bombarded with a myriad of questions as you try your best to walk earnestly with the Lord along the path He calls you. It can at times become very confusing and that leads to frustration which then could lead to us crying out to God. We may ask God where are you? Can you even hear me? I need your help. It's during these restless moments in life we feel abandoned by God and lost; completely lost. If we do not implement self control during these seasons it could lead us to do things we would later regret.
I want to encourage you to first just relax. Relax because our God is a God of peace. Even if you are faced with so many decisions, decide to remain at peace because Jehovah Shalom has promised to stay with us until the end. It may seem like you are alone and confused at which next step to take, but just stop, breathe and become at peace with God, yourself and then the situations. There is something beautiful about the stillness we can find in God when all around us is chaotic. Don't bother! Let everything be and choose peace. God's peace will Guide you.
There are two (2) Promises of God I want to leave with you when you are faced with these situations:
Isaiah 26:3 KJV – "Thou wilt keep him in perfect peace, whose mind is stayed on thee: because he trusteth in thee."
It states that Abba will keep you in Perfect Peace, not just peace, But His Peace will be Perfected in you if you decide to keep your mind on Him. Though the worries, concerns, stresses of life and other issues stir up, He promises to keep you in His PERFECT PEACE if you keep your mind on Him. This shows that no matter what you go through you Trust in Him. He Himself is the author of Peace.
Isaiah 30:21 AMP – "Your ears will hear a word behind you, "This is the way, walk in it," whenever you turn to the right or to the left."
You will also hear His sweet still voice behind you, which will direct you. You will find peace within this voice and He will tell you exactly if you need to take a right or left step. Which ever direction He tells you to take, once you obey, you will be blessed.
Remember Abba always operates in peace and confirmation. If there isn't peace over a thing, maybe His approval isn't on it. So go now and rest in Him and soon enough He will tell you which decision to take.
Peace and Love